Although dictionaries are essential study aids, contemporary Spanish learners frequently disregard them. Thanks to your smartphone, you already have access to Spanish flashcard apps, educational podcasts, and other portable resources. These Spanish dictionary apps make learning super easy and allow you to retain the information for a long time.
The advantages of the conventional dictionary transfer to the app format. Additionally, dictionaries apps offer a variety of other features that benefit students. Which of these qualities is the most crucial?
You are far too lazy to carry around a heavily printed dictionary wherever you go. The functionality of a typical printed dictionary is present in dictionary apps, but with a slight boost in portability, usability, and convenience.
You don't want to stand out as a weird tourist pulling out a dictionary on the street when you're on the road, do you? Now you only need to glance at your smartphone. The people around you will likely assume that you are texting, just like everyone else in the modern world. These points are powerful enough for you to look at a suitable Spanish dictionary app for yourself.
Looking for a Spanish dictionary online calls out for many things. You need to find a dictionary that aligns best with your learning objectives and goals. These dictionary apps serve as a great learning tool for Spanish students.
How to use a Spanish dictionary app for learning
Breaking out your smartphone each time you forget a word might almost feel like cheating. You don't have to do that, though. Allow your brain to struggle as it tries to recall vocabulary and grammar.
Your brain will learn how to search for crucial linguistic information as a result. You will lose this ability if you give up too soon. Having said that, you don't have to be too rigid about not doing research. Set aside a specific amount of time. If after two to three minutes, let's say, you still can't get past your block, you can decide to look up that word.
In fact, these Spanish dictionary apps are a great way to learn Spanish for free. You can use them to expand your vocabulary list and Spanish word pronunciation. A "word of the day" feature or a social media company profile that connects to the app's home screen are features that some of the dictionary apps we've reviewed below offer to their users. If you don't receive one automatically, choose a random word each day while browsing. Keep a running list while writing down the word and its definition in a notebook.
7 amazing Spanish dictionary apps for every learner
For intermediate to advanced students who are constantly working to become more fully immersed in the Spanish language, Spanish language dictionaries are fantastic tools. Therefore, if your level of Spanish is high enough that you don't require direct translations into English and Spanish language definitions are adequate for your needs, this is undoubtedly the best course of action. You will come across a ton of synonyms while reading definitions, so it's kind of like having a built-in thesaurus app.
But if you are looking for an authentic Spanish learning medium, you can find a Spanish tutor from italki. These Spanish tutors are mostly native speakers working with italki to make people learn Spanish online in the most authentic and engaging strategies possible. You can book your lessons online by keeping in mind your convenience and comfort.
Find Your Perfect Teacher
At italki, you can find your Spanish tutor from all qualified and experienced teachers. Now experience the excellent language learning journey!
Book a trial lesson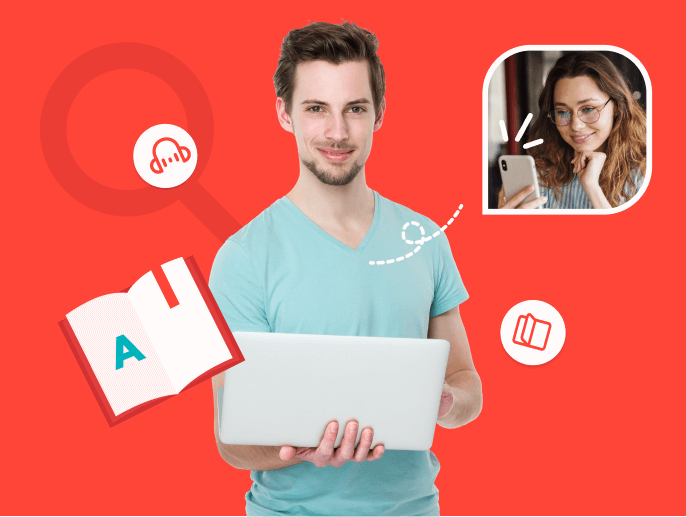 Give yourself a challenge and try this out even if you're not confident that you can handle having so much Spanish in your dictionary. You might be surprised by how much you can understand! You can still understand a word's general meaning even if you don't comprehend every single definition word. So, using these Spanish dictionary apps can also act as a language test for learners.
Diccionario RAE y ASALE (DLE)
Android app | iPhone app
Cost: Free
This is the Real Academia Espaola's (a royal institution that oversees the Spanish language as a whole) official dictionary. It is essentially an extension of the name and institutional mission of some of the greatest artistic, literary, and scientific minds who published the print edition of this.
This Spanish dictionary app gives you a stylish interface that instantly makes you feel academic while allowing you to browse the RAE language database. Regarding the usefulness of this app, it has a sophisticated search feature, a large number of available vocabulary, and verb conjugations.
FluentU Spanish
Android app | iPhone app | Browser
Cost: Visit the website
FluentU is more than just a dictionary. You can watch hundreds of real Spanish-language videos on FluentU, including movie trailers and clips, vlogs, news clips, music videos, and many other interesting options. To promote active learning, these videos have transcripts, comprehension tests, interactive subtitles, and multimedia flashcards.
Nearly all of these learning features seamlessly integrate the dictionary component. You can click or mouse over any word or phrase to instantly get a definition as you browse the transcript or follow along with the subtitles.
Diccionario Español by Smartpcx
Android app
Cost: Free
In this ordinary-looking Spanish-Spanish dictionary, special features abound. You can save and store vocabulary lists at your leisure, and there is a ton of offline vocabulary available. The use of distinct categories and color-coded themes will aid in the mental organization of new information as you learn it.
Unsure of a word's spelling? With voice recognition technology, you can simply speak the search term.
Spanish English Translator
Android app
Cost: Free
This one is not inexpensive. This one is clearly the best dictionary app in terms of layout, content, and quality. Do you require instant access to a very powerful dictionary? Then you might want to download the free trial and try it out for a month to see how it works for you.
This app has so many useful features that it goes way beyond just being a dictionary app. It will keep track of the words you have recently searched for, keep lists of your favorites, make vocabulary categories, and provide words of the day.
No matter how incompetent you are at understanding Spanish phonetics, the search function is incredibly forgiving of errors in spelling and does a great job of locating what you are looking for.
SpanishDict Translator
Android app | iPhone app
Cost: Free
Possibly the best free Spanish-English dictionary app available today is this one. You can listen to audio recordings of essential phrases, play addictive learning games, keep track of recently searched words, receive a word of the day, save words you want to refer back to, and more.
However, it's not all fun and games; this app has a powerful offline dictionary, which is pretty much the best you can get for free. This app has advanced significantly in terms of technology and is now more streamlined and quick than ever.
QuickDic Dictionary
Android app
Cost: Free
This free, entirely offline dictionary expands the possibilities for searching for words. This app is the perfect solution for you if you need a dictionary for more than one language. It has smart search capabilities that can suggest words you might be looking for. You can also store your search history and keywords for later use.
WordReference.com Dictionaries
Android app | iPhone app
Cost: Free
Using this online dictionary is essential when learning a language. The aim of this dictionary is to provide you with precise translations based on context. The aim of this dictionary is to provide you with precise translations based on context.
WordReference is your best if you are trying to convey a particular mood or find local slang. You will always find the precise word you need to convey the desired meaning, even for simpler vocabulary searches.
You will also have access to all of WordReference's online forums, which is great if you want to see discussions of words and phrases that are more in-depth.
Frequently asked questions
Q. Can you learn Spanish from a dictionary?
A. You have plenty of opportunities to learn Spanish using dictionaries. Everyone will find their match, whether traditionally through a book or more modernly with the aid of browsers and apps. The work required to learn a new language is definitely worthwhile.
Q. What is the most accurate Spanish translator app?
A. Google Translate, SpanishDict Translator, iTranslate, WordReference, and Linguee.
Q. Does a dictionary improve vocabulary?
A. They can help you remember synonyms that would function better in your writing than the ones you're currently using. Another way to learn vocabulary is to read a full dictionary definition, which can also teach you about antonyms, root words, and related words.
Conclusion
Find something to translate now that you have a dictionary in your possession! A good dictionary is helpful for appreciating genuine native content (like books and movies). Additionally, learning new words and phrases in Spanish while enjoying Spanish-language media is enjoyable.
A good dictionary will assist you in keeping up during your language practice, whether you are conversing with Spanish-speaking friends or viewing Spanish-language media. You can use Spanish translator apps to translate Spanish content into your native language. It will help you understand conversations and build long-lasting relationships.
Want to learn a language at italki?
Here are the best resources for you!