Many people use Pimsleur to learn Spanish, whether they want to refresh their elementary-level Spanish for a vacation or become completely fluent before moving to Mexico. It is one of the world's most popular language learning programs, based on the teachings of expert linguist Paul Pimsleur.
But, is this the best app for language learning for you? This comprehensive review will evaluate the Pimsleur Spanish program, focusing on the most important aspects.
Pricing of Pimsleur Spanish
Pimsleur has two subscription options: Pimsleur Premium, which costs $20 per month and gives you access to their Spanish program, and Pimsleur All Access, which costs $1 more monthly (i.e. $21/month).
When compared to Pimsleur's main competitor such as Rosetta Stone, this pricing structure costs about $5 to $10 more per month on average. So, while Pimsleur isn't the cheapest Spanish program available, it is still relatively inexpensive.
Each subscription includes a 7-day trial period, so you can always test the quality of the session before committing fully. This is a useful safeguard if you are dissatisfied with the course after purchasing it.
How does Pimsleur Spanish work
There are five different levels, each with 30 lessons. After that, there is a 30-minute audio exercise followed by a variety of review drills within each lesson.
Pimsleur's trademark spaced repetition review is scattered between all of these exercises within the lessons. This is a hallmark of Paul Pimsleur's system, but we'll go into more detail about it below in my pros section.
But broadly, there are five levels, 30 lessons per level, and each lesson takes approximately 1 hour to complete.
The format of Pimsleur Spanish lessons
To begin each lesson, you must complete a 30-minute audio exercise in which an English-speaking moderator walks you through a basic Spanish conversation step by step.
You will hear a few sentences in Spanish before the moderator interrupts the conversation to explain. After that, he will ask you questions and allow you to participate in the conversation.
Furthermore, as you progress through the levels, the English moderator begins to fade away, and you see less and less of him as the lessons become more advanced and you become more acquainted with the Spanish language.
Following the primary audio exercise in each lesson, you will review what you have just learned through a variety of drills. Reading exercises, flashcards, quizzes, pronunciation practice, and speed games are all included. Each drill or exercise takes about 5 to 10 minutes to complete, so the entire lesson (audio exercise plus all drills) should take about an hour to complete.
Each lesson focuses on a different skill or topic, such as food, weather, travel, or business. They expand your vocabulary, and you can earn "skills" badges as you complete each lesson to help you track what you have learned. If you need a quick refresher, you can go back and review them at any time in the dashboard's skills section.
Another useful feature of Pimsleur is the ability to jump from level to level or lesson to lesson. You are never required to stick to a strict schedule.
Pros of Pimsleur Spanish
1. Effective Learning Framework
The learning method of Pimsleur Spanish is a variation of the popular 'spaced repetition' system. This method is all about intervals – the times between recalling a word or phrase. It begins with high-frequency recall (think seconds and minutes) and progresses to low-frequency recall (think days and weeks).
As you progress through the Pimsleur lessons, you will hear a word or sentence for the first time and then be asked to recall it seconds later.
However, unlike the traditional spaced repetition learning system, which relies primarily on memorization – simply listening or reading at spaced intervals – the Pimsleur learning method is unique in that their lessons pressure you to recall and participate in an actual exchange.
Rather than simply listening to or reading a word or phrase and remembering it, the Pimsleur audio lessons ask you to say it and respond to a native speaker. The benefit is that it prevents you from becoming a passive listener. You are actively engaged in what you hear, and the lesson's moderator keeps you active by requiring you to respond at various intervals. This active participation is very effective at getting you to remember and use the language in real-life situations.
2. Flexibility
Aside from the learning method behind the audio lessons, you can complete these lessons while exercising, cleaning your house, taking your dog for a walk, or doing anything else. It is great that you don't always have to be glued to your computer or phone to learn.
In fact, the Pimsleur mobile app includes a special driving mode that you can use to learn and practice lessons during your commute.
3. Facility of Voice Coach
Pimsleur has just released its "Voice Coach" tool, which provides feedback on your pronunciation during verbal practice drills and exercises. The Pimsleur tech team did an excellent job in creating this tool. It's quick and accurate, and a welcome addition to the Pimsleur lessons.
As you progress through the Pimsleur Spanish program, you will be able to tell whether you are correctly articulating Spanish words and phrases.
4. Digital Platform
One of the most effective features is Pimsleur's digital platform. It is professional and smooth in terms of design, as well as quick and sharp in terms of responsiveness. Everything is laid out logically for learning and is extremely simple to use.
Cons of Pimsleur Spanish
1. Lessons can be time-consuming
While the Pimsleur audio lessons have many advantages, they also have some drawbacks. Specifically, the lessons move a little slowly. The moderator keeps you engaged by asking questions, but there is no denying that your mind begins to wander around the 15- or 20-minute mark of each lesson.
It would be nice if Pimsleur included 1 or 2 quick-hit drills, or even rapid-fire verbal exercises, to mix things up and add some variety in the middle of the audio lesson.
2. Not feasible for visual learners
Some people learn better by seeing and understanding how each word is spelled. When asked to recall it, they visualize the word's spelling – this is how some people learn and retain new vocabulary.
To be clear, the Pimsleur lessons do include a visual component, but not in the way you might expect. Pimsleur lessons rely on mental imagery rather than visual reading.
If you are a visual learner, here is a course recommendation for you. Now, at italki, you can learn Spanish online through Zoom classes or italki's portal. There are some amazing features that can encourage you to make the right decision.
Key features of italki
Spanish tutors with experience: Most of italki's tutors are native speakers with years of experience. Based on your desired learning schedule and budget, you can select a Spanish teacher online from a list of experienced and professional teachers. All of these teachers will design personalized learning plans for you based on your specific requirements.
Find Your Perfect Teacher
At italki, you can find your Spanish tutor from all qualified and experienced teachers. Now experience the excellent language learning journey!
Book a trial lesson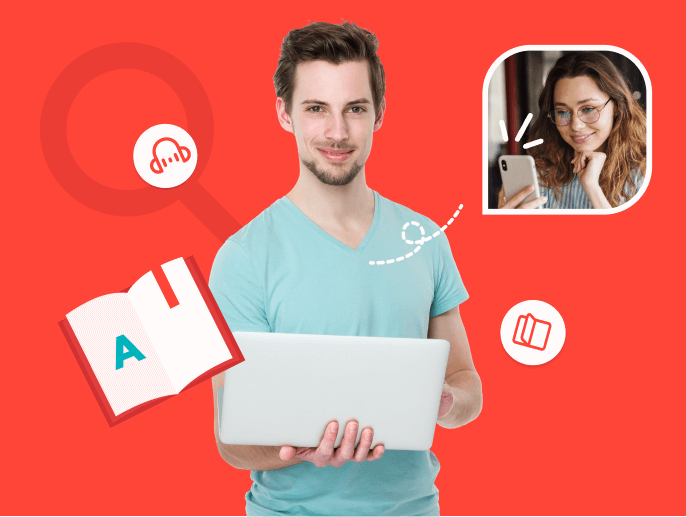 Schedules for highly flexible learning: What could be more convenient than learning Spanish at your own pace and on your own schedule? This one-of-a-kind platform recognizes people's hectic schedules and provides as much flexibility as possible.
Conversational learning formats: When you use italki, you will fully engage with the conversational Spanish tutors. The conversational learning style makes learning more engaging and enjoyable. You can choose the best learning format for your learning objectives and goals.
Relevant content: The content offered by the tutors at italki is not only engaging but relevant as well. For example, you will learn Spanish travel phrases that are quite useful for every learner.
Easy enrollment procedure at italki
Go to italki. Complete your profile with all of the necessary information. Select the 'Find a teacher' option and use the filter for Spanish teachers to find a Spanish teacher. Choose a teacher who understands your learning goals and requirements. Plan your lessons.
You are strongly advised to adhere to your Spanish tutor's extra material, exercises, and scenario-based content. Accept constructive criticism and work to improve your weaknesses.
Frequently Asked Questions
Q. Is Pimsleur Spanish appropriate for Latin America?
A. Pimsleur offers two distinct Spanish courses: one that teaches you how to speak Spanish as if you were in Spain and another that teaches you Latin American Spanish.
Q. How long does it take Pimsleur to learn Spanish?
A. If you stick to the plan and complete all of the Pimsleur lessons and drills, you should be fluent in Spanish in 4 to 6 months, depending on how quickly you progress through the course.
Q. Is Pimsleur good for Spanish?
With a robust framework based on spaced repetition and engaging drills, this language-learning app can benefit many learners.
Conclusion
In this guide, we have explored Pimsleur's Spanish Review for 2023 in detail. It is a budget-friendly option with a robust learning framework. Although it is a feasible platform for many learners, it is not very fascinating for many visual learners.
Using multiple resources to learn a second language is always a good idea. For example, you can use the best apps to learn Spanish along with a suitable language learning course. If you want to track your progress properly without losing motivation, book lessons with italki. It is a great medium carrying the right mix of traditional learning and modern flexibility.
Want to learn a language at italki?
Here are the best resources for you!