When learning Spanish, it is critical to have a good dictionary, as well as other important language-learning resources, in order to maximize your learning and become fluent in Spanish in the shortest amount of time. A Spanish dictionary online is essential whether you are just starting to learn the language or are nearing mastery.
You no longer need to carry around a large paper dictionary everywhere you go. Instead, go to an online Spanish dictionary website and have its resources at your fingertips. The best part about using online dictionaries to look up unfamiliar Spanish words is that they are completely free to use.
There are numerous online Spanish-to-English dictionaries available, so sorting through them all can be difficult. That is why we have compiled this list of the best Spanish dictionaries available on the Internet, as well as their competitors.
An online dictionary is, without a doubt, one of the most important tools for teaching yourself a foreign language. A dictionary can help you understand a new word's meaning and context by providing examples.
SpanishDict
SpanishDict is an extremely user-friendly online dictionary with a clean, modern interface, making it a valuable resource for those learning Spanish.
Aside from its Spanish-to-English dictionary, SpanishDict also has a fantastic conjugation tool, a word-of-the-day feature, quizzes, simple grammar lessons, and much more. It's also a great resource for anyone interested in playing interactive Spanish word games.
Diccionario de la Real Academia Española
This Spanish dictionary is widely regarded as the authoritative source on the Spanish language. As a Spanish language learner, however, you'll discover that their online dictionary provides an extremely simple dictionary lookup, making it ideal for daily use.
On the same website, you might be interested in the Diccionario panhispánico de dudas, a page dedicated to questions about Spanish word usage in various Spanish-speaking regions and countries. Answers are provided by some of the top Royal Spanish Academies from every Spanish-speaking country.
If you want to become fluent in Spanish, these Spanish dictionaries can serve as an effective tool to achieve your goal.
tuBabel
The use of slang is something that most traditional Spanish dictionaries lack. Learn some slang if you want to learn Spanish so you can immerse yourself in a Spanish-speaking country.
Knowing a few Spanish slang phrases will help you converse more fluently. Make yourself sound less like a robot and more like a local. This is why tuBabel is so useful and is regarded as the best Spanish slang dictionary. It's like Urban Dictionary but in Spanish. You can explore the meanings of different Spanish adjectives via this dictionary.
Minucias del Lenguaje de la Academia Mexicana de la Lengua
This dictionary is the opposite of tuBabel. If you are taking a Spanish university course or a Spanish night class, this is an excellent resource for you. It is filled with phrases and terms to assist writers and students in avoiding errors in both academic and non-academic writing.
Using this dictionary to brush up on your Spanish writing skills will undoubtedly improve your performance. It is also ideal for anyone who needs to communicate in Spanish for business purposes.
WordReference
This vocabulary genie is practical, comprehensive, and appropriate for everyone, from professional translators to casual learners. What's great about them is that they provide far more than just a definition. When you enter a word or phrase, the site provides a definition, a recording of it being spoken, a few examples, and compound words.
Best of all, you can participate in or read the forum posts about that word. Almost every entry has at least one forum thread with native speakers, translators, and students participating. While it's a great one-stop shop, WordReference earns its place as the go-to resource if you still need assistance understanding that word or phrase. You can even use it with their free dictionary app on your iPhone or Android.
Lexico Spanish Dictionary by Oxford Dictionaries
Oxford's online Spanish dictionary earns its spot thanks to its conciseness and ease of use, despite sharing many of the same features as WordReference. It provides a monolingual Spanish dictionary that includes examples and compound words. And, like El Mundo, you can translate a Spanish word into English or an English word into Spanish, but with a completely English interface.
Larousse English-Spanish Dictionary
While this site is in French (Larousse is the French equivalent of Webster's or Oxford for English), their bilingual English-Spanish dictionary is an excellent resource for English speakers.
Only a half-scroll down their homepage will you find their dictionnaires bilingues, which are, you guessed it, bilingual dictionaries. Simply enter a Spanish (or English) word into the dictionary, and it will provide you with the translation, a few compound phrases, and a linguistic breakdown.
Linguee
This is a multilingual dictionary designed for advanced students. While it includes simple translations, its real strength is its abundance of examples. And here's the thing: their examples are drawn from real-life translations found all over the internet.
Linguee was the most helpful to you when writing in Spanish. If you are not sure how to use a phrase, just type it into their search bar. You will see how it was translated by professional translators. Linguee is most effective with phrases and compound words.
The best way to learn Spanish is to take incorporate different strategies such as using Spanish dictionaries online, flashcards and notes, etc.
Want to learn a language at italki?
Here are the best resources for you!
Frequently asked questions about the Spanish dictionary
Q. What is the main Spanish dictionary?
A. Diccionario de la Real Academia Español is the Spanish dictionary often considered to be the authority on the Spanish language.
Q. What Spanish words do not translate questions?
A. The words "do" or "does," however, do not translate in a Spanish question because Spanish does not use helping verbs to create questions; it simply switches the subject and the main verb.
Q. How many words are there in the Spanish dictionary?
A. There are 93,000 words in the Spanish dictionary: (roughly half of the amount that there are in English) with 75% of them descending from Latin. And others taking influence from Arabic, Italian and French.
Q. What is the longest word in Spanish?
A. Esternocleidooccipitomastoideos (31 letters) is the plural of the noun esternocleidooccipitomastoideo, which is the sternocleidomastoid, a muscle in the human neck. The word has a 22-letter synonym: esternocleidomastoideo, which is shorter because it omits the Latin prefix occipito- ('occipital').
That concludes our list of the best online Spanish dictionaries, as well as the runners-up. We hope you found this article helpful in your Spanish language learning efforts. If you want to learn Spanish online, explore italki. The best Spanish tutors will help you learn Spanish pronunciation, Vocabulary, Spanish accents and sentence structure, etc. Before booking your lesson plans, you can have a free trial session to look out italki.
Find Your Perfect Teacher
At italki, you can find your Spanish tutor from all qualified and experienced teachers. Now experience the excellent language learning journey!
Book a trial lesson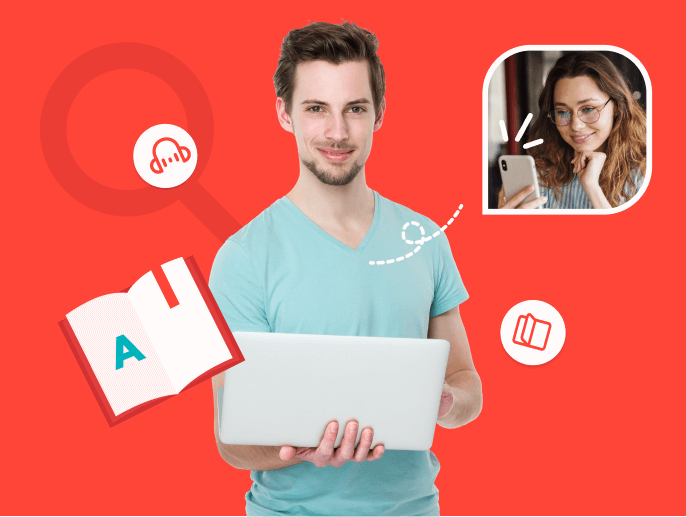 Look for an authentic medium to learn Spanish and seek guidance from Spanish dictionaries online.