Learning Spanish on your own can be a lot of fun, especially if you do it by reading magazines, watching films, and listening to music. But you need a partner if you want to make the whole learning journey interactive. You will stay motivated to improve your Spanish by combining your solo studies with a Spanish language partner.
According to a research study, working with a well-matched partner is more effective than working alone. So, you need to get one for yourself!
Benefits of finding a Spanish language partner
Increased Accountability: You can keep a daily list to remind yourself to learn Spanish phrases and expressions. However, sometimes, this becomes annoying. After all, when you work alone, you only have to answer to yourself.
A good Spanish language partner will help you to be more accountable. When we tell someone else about our goals, we are far more likely to set realistic, measurable goals and actually achieve them. You will also be scheduling regular meetings with your Spanish language partner, which will necessitate planning and prioritizing your practice.
When you are learning by yourself, making excuses, procrastinating, or letting other obligations get in the way is easy.
Encouragement: The right partner will make Spanish learning enjoyable. Your partner will celebrate with you when you conjugate that difficult past tense irregular verb for the first time.
Your buddy will be there to help you enjoy the enjoyable aspects of your Spanish learning journey as well as to support and motivate you when you become frustrated. The best part of working with a partner is regularly connecting with someone who shares your goals.
What to look for in a Spanish language partner
1. They must be eager to learn
Both intrinsic and extrinsic motivation drive us to greater heights. Lack of motivation, like a partner who lacks motivation, is a real progress killer.
The desire and drive to learn Spanish are important characteristics that will motivate you to work harder to achieve fluency. A motivated partner will push you even harder.
2. They must have similar scheduling requirements
You and your partner may not get along well, but meeting regularly will be difficult if you are a night owl and he/she is a morning person. The key to a successful working relationship is consistency, so choose someone whose logistical preferences and needs are compatible with yours.
3. They must be at the same Spanish learning level
If you are a fluent Spanish speaker and he is just starting out, you will get bored quickly, and your partner may become frustrated. It will be easiest to collaborate if you have similar skill levels.
Where to find a Spanish language partner
Now that you know what you are looking for, it is time to go out and find a Spanish partner. There are numerous great places to find a partner, whether you prefer in-person or virtual meetings.
Before committing to something more long-term, don't be afraid to try a trial session or two with potential Spanish language partners. You must make sure you two are a good match.
Spanish conversation groups
If you want to meet your partner in person, your local community is a great place to start. Most major cities have Spanish conversation groups, which are great for hearing a variety of Spanish accents, slang words, and word usage. After all, you are likely to meet a diverse range of people with a variety of experiences in these types of groups.
You are likely to find someone in this group who is at a similar level to you and is interested in doing additional one-on-one meetings. Because members of conversation groups have already committed to regular meetings and practice, these groups are excellent places to find potential partners.
Websites
The Internet is the best place to find virtual work partners and meet people in your area. Social media platforms like Facebook and Twitter are great places to meet people worldwide who want to learn Spanish.
Obtain a recommendation from a classmate or friend
Although technology is wonderful, it cannot always replace good old-fashioned word of mouth. If you are enrolled in a Spanish class or know other Spanish students in your network, ask if they can recommend someone else looking for a Spanish partner. You will be surprised at how quickly the right partner appears once you have spread the word.
If you are not enrolled in any Spanish class yet, here is a strong recommendation for you. You can now learn Spanish online with italki. You must be wondering why italki? We have all the answers here.
Why italki?
1. You can get the best private Spanish tutor at italki.
2. The instructors are highly experienced and professional (mostly native Spanish speakers).
3. The conversational Spanish classes let you discuss your learning goals and aspirations with your tutor.
Find Your Perfect Teacher
At italki, you can find your Spanish tutor from all qualified and experienced teachers. Now experience the excellent language learning journey!
Book a trial lesson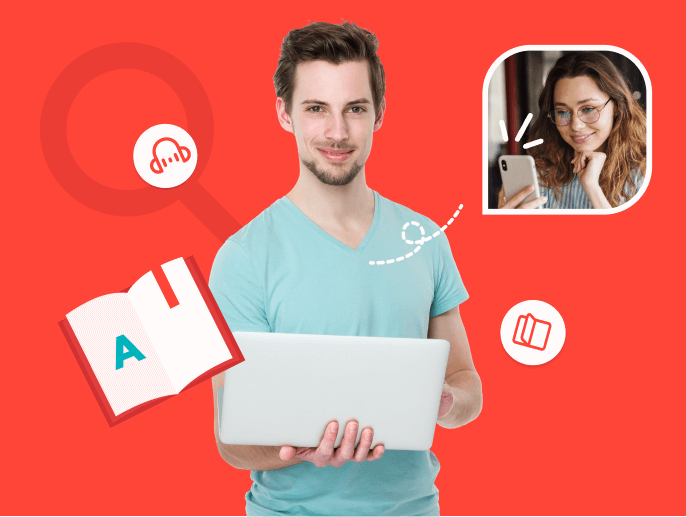 4. You can have flexible learning schedules as italki operates online mode.
5. The tutor provides you with a tailored lesson plan that meets your requirements.
6. Additional material is also provided to develop Spanish speaking and writing skills at a gradual pace.
Enrollment process at italki
Visit the website. Make your profile. Enter information about your preferred learning style and schedule. Look for Spanish tutors: Go to the 'Find a Teacher' section and search for Spanish tutors. Review their profiles (including their experience, reviews, teaching styles, and so on).
Select your preferred tutor. To experience the quality of their learning sessions, you can book a trial session at a reduced price. Establish your learning objectives in consultation with your tutor. Schedule regular lessons and follow them consistently. Participate in conversational sessions and read the instructor-provided material to improve your language skills. Listen to the instructor's feedback and keep track of your learning progress.
Activities to do with a Spanish language partner
Practice Spanish conversations
One of the most significant advantages of having a language partner is the ability to have actual conversations with another person. Even if you and your partner are just starting out with Spanish, you can practice basic conversational skills with simple topics. Make a list of topics you want to talk about. Think about topics that come up frequently in everyday conversations in your native language.
Create a book or movie club
It is easier to stay on track when you do your Spanish reading and movie-watching with a partner. Make a book or movie club, even if it's just you and another person.
In this mini-club, you will watch a movie or read a book that you have chosen together. When you have both finished by the agreed-upon deadline, get together and discuss what you have just read or watched. This is an excellent way to combine reading, watching films, and conversing.
Examine your grammar and vocabulary
Grammar and vocabulary aren't the most enjoyable aspects of learning a language, but they're necessary for fluency. Your partner can assist you in holding yourself accountable for learning them.
Choose one or two vocabulary words or verb tenses to learn each week and have your partner quiz you on them. Examine your notes and study materials. Watch instructional YouTube videos and practice chatting in Spanish by recapping what you have just learned.
Frequently Asked Questions
Q. What is the simplest way to find a language exchange partner?
A. A simple Google search for language exchange partners shows several results. You can look at the search list to find a suitable partner.
Q. How do language partners function?
A. You find a partner who is fluent in your target language and is learning your native language. You two agree to assist each other by taking turns being the student and the teacher.
Q. What is the biggest benefit of a language partner?
A. Having a language partner allows you to practice and polish speaking skills. You have someone to talk to in your target language.
Conclusion
Having a Spanish language partner has many benefits. But, you need to find the one compatible with you. You can also look at some of the best apps to learn English. These apps are super helpful to master Spanish phrases, expressions, verbs, nouns, etc.
If you want an experienced Spanish teacher, book your lessons with italki. It is a great platform to master Spanish in the comfort of your home.
Want to learn a language at italki?
Here are the best resources for you!