Learning a second language may seem difficult at first but once throw yourself into the deep end, you start enjoying the learning process. If your goal is to learn Spanish in one year, you need to follow some tips and tricks to reach your destination.
Before we get into the ways to learn Spanish in one year, you need to remember one thing. Nothing is impossible. If you are finding Spanish difficult right now that doesn't mean you cannot get better. You can learn Spanish online and gain fluency in your preferred accent. All you are required to do is to stick to your goal and strive to get better every single day.
Want to learn a language at italki?
Here are the best resources for you!
Watch movies and Television
Spanish films and television are excellent ways to expand your vocabulary while also improving your comprehension. If you are just starting out, watch Spanish movies with English subtitles. When you have progressed past the beginner level, try watching Spanish movies with Spanish subtitles.
It may appear strange to watch and read in Spanish at the same time, but it works wonders. Reading abilities develop much faster than listening abilities. You will be able to significantly improve your pronunciation by reading and listening at the same time.
Watching films in Spanish is also a great way to learn about regional accents while experiencing different Spanish-speaking cultures. Fortunately, Mexico and Spain, two of the countries with the most distinct Spanish accents, are also the most prolific producers of Spanish language features.
Fortunately, Netflix has an excess of Spanish-language movies and YouTube videos from native speakers. As your Spanish improves, these options will become even more useful. In fact, it is one of the best ways to learn Spanish for free, take advantage of excessive Spanish media, and observe how the natives speak in Spanish movies. It will help you develop the same accent as theirs.
Learn Spanish grammar with textbooks
Fortunately, Spanish grammar is generally very simple, and the fundamental tenses (present simple, future simple, preterite, and imperfect) can be learned in a day or two. Unfortunately, unless you are an infant or toddler, you are unlikely to learn Spanish grammar as easily as you learned your first language.
Grammar is a technical and detailed subject, so a textbook can cover it more thoroughly than most other resources. And doing the exercises in a textbook will help you solidify the rules in your mind.
You can consult "Hugo Spanish in 3 Months," a really simple grammar book and CD for beginners. It is a great resource for learning basic tenses, prepositions, and popular phrasal constructs. It also includes explanations for plurals and gender. It is packed with short explanations and exercises, with all of the answers at the back of the book.
You can devote one hour at the end of each day to the exercises. When you come across a section that troubles you, go back and repeat the exercises until the grammar becomes second nature.
Learn Spanish vocabulary with novels
Spanish vocabulary should be learned as soon as possible. If you don't know words, you can't do much with grammar. You will want to learn words quickly at first. That is, you must learn the fundamental core vocabulary that will appear in almost any conversation or piece of writing.
Once you have mastered the fundamentals, such as colors and days of the week, you will want to expand your vocabulary to include words you might encounter in a variety of situations. And reading novels is probably the best way to do so.
Reading at home, without a doubt, is one of the most beneficial learning activities. Read whatever you could get. For example, Novels translated from Portuguese to Spanish by Paulo Coelho. Coelho's writing is so straightforward that it is ideal for beginners. His sentences are brief and easy to comprehend. His vocabulary is also quite limited.
Read a chapter. Underline the words you do not understand. Look up the words in the dictionary, take notes on the translations, and reread the chapter. You will learn a lot of new words and phrases, and it will help you a lot with sentence structure.
Listen to Spanish radio and podcasts
If you want to learn Spanish in one year, Spanish radio and podcasts can help you a lot. Listening to the radio in Spanish is a challenging but enjoyable way to get some Spanish into your brain while relaxing. It can be difficult to understand what someone says in a foreign language without seeing their lips.
Spanish radio can help you get through your commute faster. Once you get into Spanish radio, you will come to know about some fantastic Spanish-speaking musicians such as Andrés Calamaro, Vicentico, Joaqun Sabina, Anita Tijoux, Calle 13, and Gustavo Cordera.
Podcasts are also an excellent resource for practicing listening to native Spanish speakers. You should probably begin with podcasts geared toward Spanish language learners because they contain simple vocabulary spoken slowly and clearly.
You can start listening to Spanish podcasts for native speakers once you have mastered it. The vocabulary in these podcasts is more difficult, and the podcast hosts speak at a normal, native speed. Using this type of podcast will significantly improve your listening comprehension skills.
Take online Spanish courses
Taking online Spanish courses is a highly effective way to learn Spanish on your own. We almost always travel with our laptops, tablets, and phones, which means that any online course will be available to you at any time and from any location.
Remember that you are more likely to devote time to a program that interests you. We recommend you to get register with italki. This platform has amazing Spanish teachers who corporate Spanish culture into their lessons, which makes things more interesting. Getting involved in italki's lessons is an excellent way to improve your vocabulary. The goal of this course is to introduce cultural insights through engaging instructional practice and reading materials.
Find Your Perfect Teacher
At italki, you can find your Spanish tutor from all qualified and experienced teachers. Now experience the excellent language learning journey!
Book a trial lesson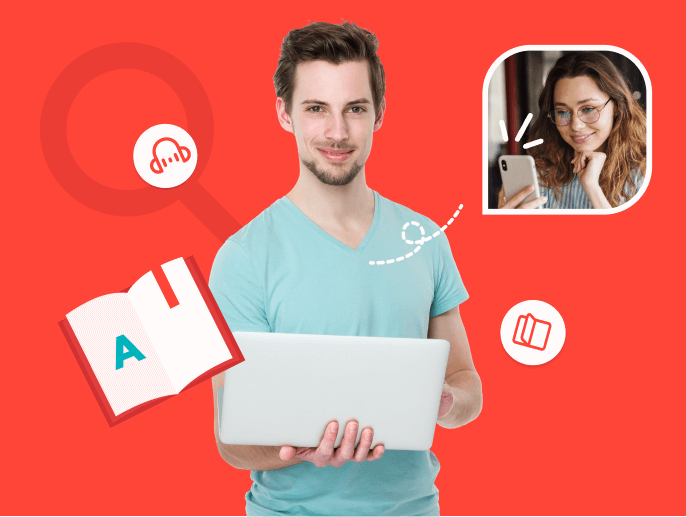 Find a language partner
Many of us thrive when we work together to learn. A language partner will assist you in challenging yourself and making your language-learning journey less lonely and more social.
If you are not already living in a Spanish-speaking country, you can find a partner through websites such as the Conversation Exchange website. The majority of people who create profiles on such sites are looking to practice a language with someone who is more fluent, with the hope of both partners improving their language skills.
Having a language exchange partner will assist you in improving your pronunciation, learning idioms, and learning about Spanish culture. When you start spending time with your language exchange partner, you will be amazed at how quickly you will progress. When you are having fun while learning a language, it won't feel like work.
Learn Spanish with music
One of the simplest ways to learn Spanish is to listen to Spanish songs over and over until the words become ingrained in your head. Music will help you improve your pronunciation and accent, as well as teach you some new expressions, slang, and grammar structures.
Furthermore, because Spanish music is so diverse, there is something for everyone. Bands like Maná and singers like Juanes are great as they never sing too fast and are clear in their pronunciation, so learning the lyrics becomes easy. Furthermore, their songs are extremely catchy.
Begin by listening to Spanish music on YouTube. When you have found the one you like, look up the lyrics online, print them out, and try to sing along. When studying would otherwise be difficult, Spanish music will fit well into your exercise routine.
Frequently asked questions
Q. Can you learn Spanish in one year?
A. According to the US Foreign Service Institute (FSI), if you study Spanish for one hour per day, you could achieve fluency in 480 hours. That's a little more than a year. That's not bad, and it's a reasonable time frame.
Q. Is it difficult to learn basic Spanish?
A. Regardless of your mother tongue, Spanish is one of the easiest languages to learn because it shares some surprising similarities with many other languages. Of course, Spanish still has difficulties that may differ for speakers of other languages.
Q. Which Spanish is the most simple to learn?
A. If you are just starting out with Spanish, Latin American Spanish is by far the best dialect to learn. Latin American Spanish is ideal for beginners due to its clear accents and slower pronunciation.
Conclusion
There are numerous methods for learning Spanish in one year, and there is no one method that is superior to the others. It's about figuring out what works for you, what aligns with your goals, and what you need to do to get there.
The best way to learn Spanish is the one that works best for you. Knowing your goals and motivations for learning Spanish will help you focus your studies and stay motivated throughout the learning process.