Do you want to learn Spanish in three months? Well! Then you shouldn't be wasting your precious time. In fact, you must look at some of the most effective and helpful steps helping you to meet your learning goal within three months.
This guide will highlight six steps to learn Spanish in 3 months. So, let's jump in!
Steps to learn Spanish in 3 months
1. Set realistic goals
Have you heard about SMART goals?
SMART stands for: Specific, Measurable, Attainable, Relevant, and Timely
Let's separate it and apply it to this challenge. We will give you an example of each of these SMART goal components.
Specific means unambiguous. This aspect of the goal-setting strategy has no grey area. For example, your goal can be: I will reach the fluency B1 within three months. This is a very specific goal.
You must now decide exactly what you want to achieve. Your action plan must be measurable. How do you intend to achieve your goal? It is your road map to success. It should be clear whether or not you are meeting your objectives. A "measurable" goal might be something like: To achieve the goal in 3 months, I will dedicate 2 hours daily to learning Spanish.
Attainable is the position in which you possess power. To be honest, you are in charge of this. However, this is partly a personal matter and is dependent on you. Many people desire something, but not all are willing to work for it. So, hopefully, your goal is as follows: Speaking like a native in three months is impossible, but having simple conversations with adequate vocabulary and grammar is.
Relevant means your "why?" What motivates you to learn Spanish in three months? This is also up to you and relates to the "Specific" point mentioned above. As an example, consider: I want to learn Spanish quickly because I am moving to Spain in 3 months.
Timely refers to the time frame or deadline for completing a task. The time limit is three months.
If you want to learn Spanish easily, you must set SMART goals. You must be clear with your direction; otherwise, you will waste your time. Sit down and write your SMART goals today and start pursuing them with all the resources you have.
2. Design a study plan
A proper plan is required to reach the desired goal. Here are some things to keep in mind while designing a study plan.
Begin by learning the alphabet and compiling a list of common vocabulary words. The length of your list is entirely up to you, but keep in mind that you only have twelve weeks.
For the time being, learn the words without worrying about tenses or other grammar. You will probably feel overwhelmed, but hopefully, you are thrilled about starting a new adventure.
Use technology to demonstrate how to pronounce words. Expect to make errors, but don't let them discourage you. Practice until you sound like the person whose vocabulary you are trying to follow.
After learning the basic vocabulary, you need to learn the numbers. If you are going to a Spanish-speaking country, you will need to know how to pay for a meal or a taxi. Even if you don't, you will need to be able to count and say numbers for a variety of common interactions.
You should be getting the hang of learning this new language after about six weeks. But don't let up. Now is the time to step up your game plan. It is the time to take the grammar sessions. It is a good time to start paying closer attention to verb conjugations and tenses, particularly for common irregular verbs.
Add to your plan once a week. Because you have limited time, you must expand your vocabulary list, practice reading, and hold speaking sessions.
Confidence, knowledge, and time are required for proficiency in anything. The time constraint is already in place, but you will undoubtedly progress if you set small goals and work consistently.
3. Choose learning materials that interest you
Everyone learns in their own unique way. Some people prefer hands-on learning, while others prefer book learning. You are aware of what works best for you. Determine how you learn best for this step, then gather whatever materials you need to help you learn uniquely.
Are you primarily a visual learner? Or do you learn quickly when you learn through immersion and context? Or do you need a Spanish tutor online to help you achieve your learning objective?
If you want to learn Spanish online, italki is the best option for you to learn Spanish within three months.
Why italki?
If you want to learn Spanish within three months, you need to consider your time wisely. Seeking professional guidance is necessary to track your progress well. With italki, you can meet your learning objective without getting overwhelmed.
Freedom to design lesson plan: You can design your lesson plan with the consultation of your tutor (selected by you) to meet your customized goals and objectives.
Flexible schedule: This online learning platform provides flexible schedules, allowing learners to maintain routine tasks.
Conversational learning sessions: With the conversational Spanish tutor, you can discuss your weaker areas and seek constructive feedback.
Find Your Perfect Teacher
At italki, you can find your Spanish tutor from all qualified and experienced teachers. Now experience the excellent language learning journey!
Book a trial lesson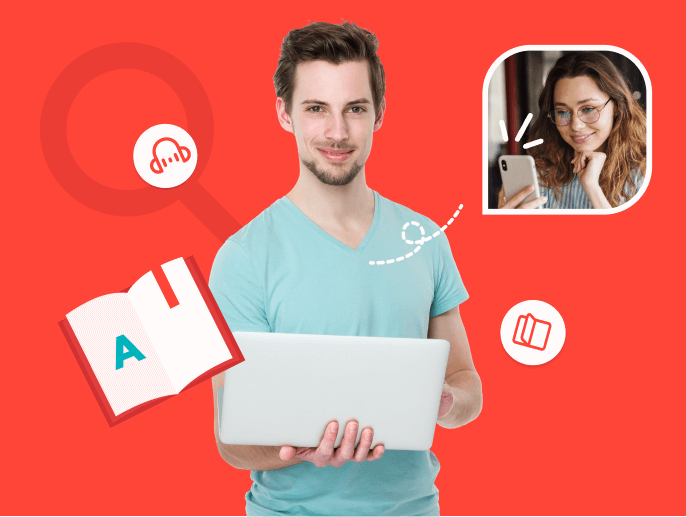 Availability of trial session: This is the most interesting feature of italki. You can book a trial session with the tutor at a reduced price to see if their teaching style and pattern match your learning objectives.
How do I get enrolled in italki?
The process of enrollment is pretty simple. Go to italki. Create your profile and fill in all the required information. Tap the 'Find a teacher' option and apply the filter to search for a Spanish teacher.
Choose the teacher that aligns with your learning objectives and requirements. Book your lessons. Start learning! Simple, right?
Following the additional material, practice exercises, and scenario-based content provided by your Spanish tutor is highly recommended. Take constructive feedback and work on your weaker areas.
4. Practice
Practice makes a man perfect. Making mistakes is normal; everyone does. Your pronunciation will improve as you learn. Words that seem difficult to pronounce will start to flow off your tongue.
Remember that mistakes are also opportunities to learn. You will remember what you got wrong the first time and apply that knowledge the next time you use the phrase. So, practice as much as you can without fearing mistakes.
5. Go to a Spanish-speaking Country
This is not for everyone. If you can't travel to a Spanish-speaking country, create an environment that closely resembles one. On numerous levels, cultural aspects of a country can be brought into your home.
Music is probably the simplest way to immerse yourself in the language. Because Spanish is spoken by so many people in so many countries, there is a vast selection of excellent Spanish-language music. Learning Spanish through films also allows you to incorporate language into your life with minimal effort.
Cultural immersion in the home environment does not require you to remain at home. There could be an abundance of cultural events in your area directed towards Spanish speakers.
If you prefer one-on-one activities over group activities, find a Spanish language partner and meet for coffee; doing so will also give you more opportunities to chat and practice speaking Spanish.
6. Use technology as much as you can
The technology we use on a daily basis provides us with numerous exciting opportunities to learn Spanish. The majority of us never leave the house without our phones. Fortunately, you can download Spanish apps, practice, and learn whenever and wherever you want.
YouTube is useful for more than just insane snow drivers, silly cats, and dance videos. You can subscribe to some fantastic Spanish-learning channels. If you can't find a local language partner, look for a Skype partner. Technology can bring someone on the other side of the world as close to you as your living room.
Follow these six steps if you want to learn Spanish within three months. Nothing is impossible if you have a clear direction and the required resources.
Frequently Asked Questions
Q. How long does it take to become fluent in Spanish?
A. According to the FSI study, it takes 24-30 weeks and 600-750 class hours. This figure is based on native English speakers achieving conversational fluency in Spanish. So, "How long does it take to learn Spanish?" According to FSI estimates, it should take around 24 weeks or 600-750 class hours.
Q. How many hours does B1 Spanish take?
A. A1 (Elementary 1 and 2) (60 hours) A2: Elementary grades 3–5 (90 hours) B1: Intermediate levels 1–4 (120 hours) B2: Intermediate 1 to 5 (150 hours).
Q. How long is A1 to A2 in Spanish?
A. After achieving the A1 level, you will need 100 additional hours of study to speak Spanish at the A2 level. This amounts to four to seven months of total Spanish study. For example, if you devote at least one hour per day to learning Spanish, you should be able to finish this level in a couple of months.
Conclusion
Setting the right goal is necessary to meet your Spanish learning objectives. Setting the goals and sticking to them ensures success and wins. If you want to hold basic Spanish conversations effortlessly, follow the six steps mentioned in this guide and start learning Spanish today.
Enroll yourself in italki and get the best Spanish tutor online. Mastering a second language is difficult, but if you seek professional guidance, you can reach your destination easier than you can even imagine. So what are you waiting for?
Want to learn a language at italki?
Here are the best resources for you!